Profile

Free Account
Created on 2012-06-05 03:36:38 (#1638391), last updated 2012-11-01 (255 weeks ago)
5 comments received, 81 comments posted
3 Journal Entries, 0 Tags, 0 Memories, 10 Icons

About

Mini Bio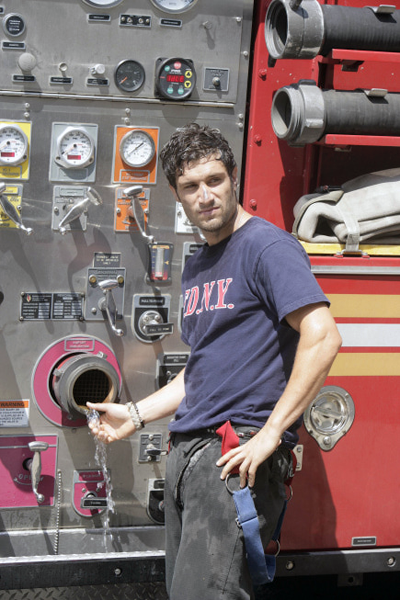 Probationary Firefighter (Probie) Mike Silletti
Rescue Me
Physical and emotional description:
Mike is of Italian-American heritage, in his early 30's. He stands 5'9" with a somewhat-solid build (he is well-muscled without being bulky, but not quite
lean
) and has dark hair and dark eyes. He has a few tattoos (covered by his clothing) on his chest and right bicep. He is generally a positive person, though he does have emotional moodswings and can get needy. He is considered 'slow and dim-witted' by other members of the crew and some of his love interests (in part due to his dyslexia) and often finds himself in confusing situations (most often involving sexual encounters and/or homosexuality) without meaning to.
He is finishing up his probationary year as a rookie firefighter with 62 truck, and looks up to the each of the members of the crew. In the early part of his first year, he is often seen fumbling with his equipment and/or losing his tools (notably, the Halligan), though he grows in ability and confidence as he nears the end of his time as a 'probie'. He is also on the FDNY hockey team (and is praised for his speed, rather than his brute strength and/or ability to beat anyone up) and enjoys karaoke and has a thing for fancy coffee.
[While the Probie is not nearly as much of a jackass as some of the other firefighters on the crew (we're looking at you, Gavin), he still has his moments, and may very well stick his foot in his mouth and possibly offend some characters. If you have any concerns or questions, feel free to get in touch with me at the
contact post
stuck at the top of his journal.]
Mike Silletti is from "Rescue Me," and is the creation of Denis Leary and Peter Tolan and property of the FX Network/Sony Pictures. He appears here solely for the purpose of role-playing in

milliways_bar
, from which no profit is being made. This journal may contain adult content and/or themes/language, read at your own risk!

People
[View Entries]

Communities
[View entries]

Feeds
[View Entries]

Subscriptions (0)

Linking
To link to this user, copy this code:
On Dreamwidth:
Elsewhere: